Regal Lands and UNIMAS Strategically Aligned to Enhance Research Competency
Regal Lands Sdn Bhd ("Regal Lands"), the wholly-owned subsidiary of SGX–mainboard listed Regal International Group Ltd. ("RIG" or together with its subsidiaries, the "Group") signed a Memorandum of Understanding ("MoU") with Universiti Malaysia Sarawak ("UNIMAS") on 10 November 2017, to enhance mutual research competency.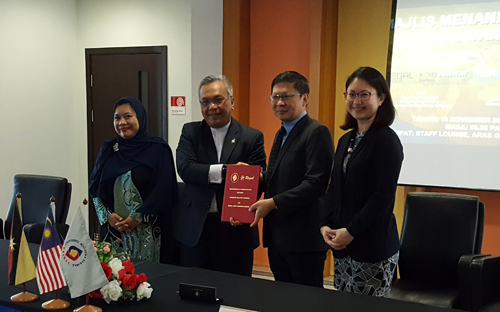 (Second right) Mr. Dominic Su, CEO of RIG exchanging documents with (second left) Prof. Datuk Dr. Mohamad Kadim Suaidi, Vice Chancellor of UNIMAS, along with senior management.
Regal Lands and UNIMAS tie-up aims to undertake further R&D activities on expected areas of mutual interest such as property investment, outreach programs and other related management trainings and other innovations. UNIMAS is also a great addition to Regal Lands' strategic network in providing first-hand research information on consumer behavior and spending patterns to enhance business marketing.
"Regal believes that collaborating with an established university like UNIMAS, we are able to tap into the existing resources to produce more credible and valuable research materials applicable in the working environment," remarked Mr. Dominic Su, the Group CEO of RIG.
Rooted in property development, Regal Lands is working towards enhancing its property contents through complementary values of education as part of its product innovation strategy.

Receiving gift of appreciation from UNIMAS.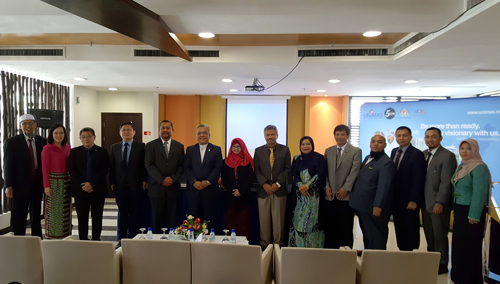 Group photo taken with UNIMAS and other strategic partners present at the signing ceremony.
________________________________________
About Universiti Malaysia Sarawak (UNIMAS)
UNIMAS is represented by the Faculty of Economics and Business. UNIMAS is an established university which strives to enhance and strengthen its higher education and research capabilities and has taken various initiatives to complement its education excellence. UNIMAS has entered into various collaborative arrangements with other parties to enhance research, consultancy and academia.
For more information, please visit http://www.unimas.my/.