Million Sunray Undertook First "Malaysia Durian Festival 2017" in Nanning, China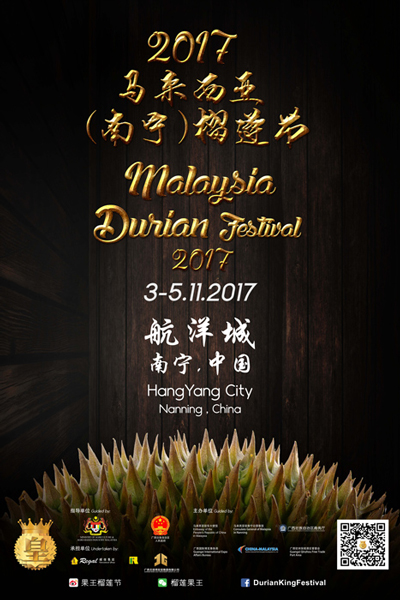 Million Sunray Sdn Bhd ("Million Sunray"), a subsidiary of SGX-mainboard listed Regal International Group, undertook the first "Malaysia Durian Festival 2017" ("DuFest 2017") in Nanning, China in an attempt to heighten its strategic edge as a cross-border investment platform. The 3-day DuFest 2017 designated to promote Malaysian whole frozen durian fruits, Durian-related products and other value-added agricultural products in China, was described as a "fabulous success" for achieving an impressive turnout of about 165,000 people and a total projected trade value of the business matched (by 2020) worth RM2.9 billion.
Event Highlights
Held in front of the popular HangYang City shopping center (南宁航洋国际城), from 3rd to 5th November 2017, DuFest 2017 featured approximately 55 exhibition booths showcasing over 200 durian-based products like coffee, ice-cream and pancakes, together with other Malaysia tropical fruits such as pineapple and jackfruit. With event highlights involving Malaysian durian sampling, Malaysia cultural performances, onsite games and quizzes, DuFest 2017 has successfully heightened the awareness of Malaysia arts and cultural heritage in China.
"DuFest 2017 will help unleash untapped potentials in demands for supplementary trades and developments relating to tropical fruits processing and production, quality control and certifications, not to mention logistics and storage needs," remarked Mr. Dominic Su.
The Group believes that Million Sunray's undertaking in DuFest 2017 is part of its strategy in enhancing real estate value-chain via the integration of complementary agricultural business ventures of sustainable growth.

Main entrance of the event in front of HangYang City.

(From left) Mr. Dominic Su, CEO of RIG, Yang Berhormat Datuk Sri Ahmad Shabery Cheek, Minister of Agriculture and Agro-based Industry Malaysia, Mr. Zhang Xiaoqin, Vice Governor of Guangxi Zhuang Autonomous Region and Tan Sri Datuk Seri Pandikar Amin, Speaker of the House of Representatives Malaysia during the opening ceremony booth tour.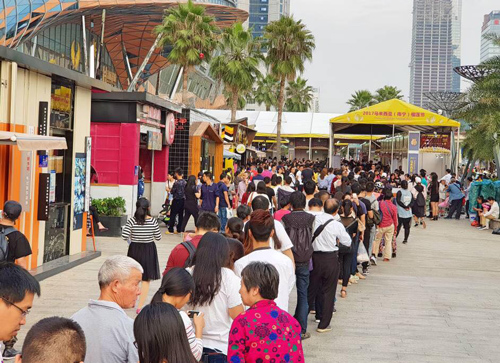 Local Guangxi community queuing up to 3 hours to have a taste of Malaysian 'Musang King' durians.

Opening Malaysian Musang King for public tasting.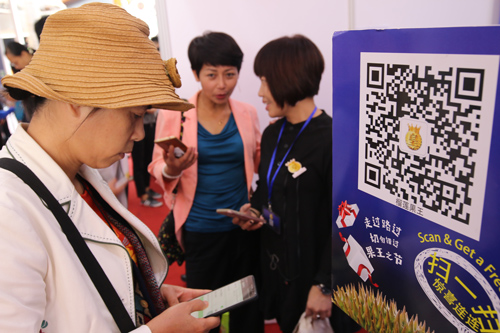 Scanning the 'Wechat' account to receive surprise gifts.

Performance by Sarawak cultural troops during networking dinner on 4 Nov 2017.

(Left) Mr. Zhang Xiaoqin, Vice Governor of Guangxi Zhuang Autonomous Region posed in a picture with (right) Mr. Dominic Su, CEO of RIG.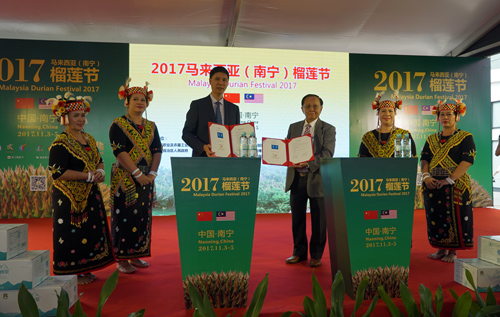 The signing between (third left) Deng Rong Holdings Sdn Bhd and (third right) Malaysia Hainan Dazhou Swiftlet Ecological Agriculture Development Corp., Ltd. is among one of the 7 MOUs signed at DuFest 2017.

(Left) Madam Fan Huiqun, Vice President Secretary General of China-ASEAN Chamber of Agricultural Commerce and Datuk Haji Kamarudin Ismail, Vice President of ASEAN Co-operative Organization collaborated to promote agriculture, trade and cooperatives development in ASEAN countries.

The event attracted 165,000 people over 3 days.
Click here for a glimpse at DuFest 2017.
______________________________
Other related media article(s):
*New Straits Times, "Durian fest in China to share happiness with the Chinese", 4 Nov 2017
*The Borneo Post, "MDF2017: Let the Chinese enjoy Musang King, the kampung way", 4 Nov 2017
*New Straits Times, "Chinese VIP declares Malaysian durians best in the world", 4 Nov 2017
*e南洋,"农长:反应热烈拟中国办榴梿巡回展",4 Nov 2017
*星洲网,"苏琮杰:吸引16.5万人次。榴莲节交易可额28亿",6 Nov 2017
*e南洋,"南宁盛会吸引16-5万人次榴梿节交易29亿",6 Nov 2017
*中国报,"南宁榴莲节 3天交易量近29亿",6 Nov 2017
*Bernama, "From Panda to Durian Diplomacy", 6 Nov 2017
*The Borneo Post, "Agricultural sector players must be ready to meet demand from China — Ahmad Shabery", 6 Nov 2017
*Borneo Post Sabah, "One Belt One Road: MOA and Jing Dong seek potentials", 8 Nov 2017
______________________________
Other related TV broadcasted new(s):
*8TV – 南宁首办户外榴莲节 铁粉请假尝猫山王
*广西卫视 – 2017马来西亚(南宁)榴莲节11月3日-5日在南宁举行